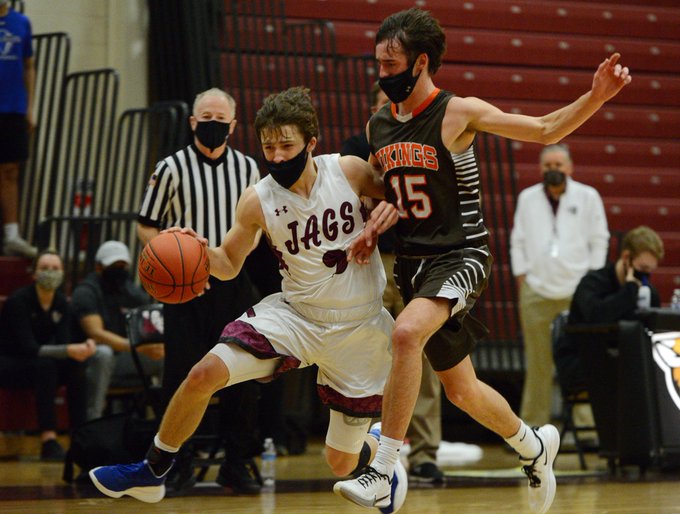 By: Alec Eskin
The Garnet Valley boys basketball team is heating up at the right time this year as they seem to be handling business pretty well as of late. The last game the Jaguars had lost was to Lower Merion on February 13th, which is exactly a month ago and have ripped off nine straight since. This includes the Central League championship game in which they upset Conestoga to win the first title in Garnet Valley history. Then, there is two 20+ point wins in two games in Districts against Upper Dublin and Perkiomen Valley. It is worth mentioning that both these teams are suburban one which is known to be one of the more powerful divisions in District One. One noticeable difference between last year and this year is that Garnet Valley has been very consistent on both ends of the floor and the results are evident of that. This team has also been playing with just the right amount of coincidence this year too. There is a lot to be excited about heading into Tuesday night, lets go into a recap of both games . . .
The game against Upper Dublin was one that gave fans a lot of confidence. Upper Dublin came in as the 20th seed, the last one in District One, and head just upset Haverford. Garnet Valley was playing a stellar offensive game as they scored a season high 69 points as they won by a final score of 69-41. Justin Langan bounced back after a tough game against Conestoga. He went 4-5 from the field and 3-4 from beyond the arc. Then, of course star player Carl Schaller made his mark on the game as he went 8-12 from the field with with five assists and there steals. Lastly, Gannon McKee had three rebounds, three assists, two steals, and one block. Now, on the defensive side of the ball, it was almost a good of a story. The Jaguars were able to get Upper Dublin to commit a lot of turnovers and did not give them a lot of high percentage shots. Lastly, and one of the most important, is that the Jaguars were able to get a lot of rebounds, which has been hard for them due to have a more small ball roster. Overall, a great way to start off the District One playoffs and a good confidence boost as well.
Coming into Friday, Perkiomen Valley won a close game against 12 seeded Pennridge and had a very good season. However, the season would come to a close after Garnet Valley had control from the 2nd quarter on. After getting an eight point lead ogiin into halftime, there was the feeling that the game was going to go in GV's direction, which it did as they won 63-38. Garnet Valley was one again able to get above 60 points in the game and held Perkiomen Valley to under 40 points. Carl Schaller led the way in points as the Jaguars along with five rebounds, two turnovers and two steals. Another ting to point out is that he attempted 15 free throws! This is a season high for any individual player on the Jaguars. Also, Justin Langan continued to be his usual self, making too three pointers and 4-4 from inside the arc to go along with six rebounds. On the defensive side of the ball, they kept causing the Viking to make mistake on offense as they committed a lot of travels and could not get a lot of good shots up. Then, under the basketball, Garnet Valley controlled to paint for the vast majority of the game. It was rebound fest for the jaguars as they had the unusual height advantage in the game. Overall, a really good game for them as they advance to District One Semis.
The next game will be at home on Tuesday at 7:00 PM for Garnet Valley. They will be playing Lower Merion for the third time this year after they upset Cheltenham 59-50. This will be considered kind of like a rubber match game as both team have split the season series so far. Lower Merion, just like the Jaguars, are playing a lot of red hot, confident basketball after loosing to Marple Newtown in the Central league playoffs. The Aces had a Covid issue on their team with that game as they were only left with their JV team to play against Marple. Ever since, they have been road warriors after winning against Downingtown East and Cheltenham. Jalen Shippen, Sam Brown (son of foamier Sixers head coach Brett Brown), and Demetrius Lilley all have been a huge reason for Lower Merion success. I would imagine that this game would be much closer than what every one has seen these past two games. Should be a very tight game with both teams having a lot of motivation to win.